ARTICLE POSTED BY JENNY LY OF THE DAILY JENNY.
Jenny Ly is the founder of The Daily Jenny, where she chronicles her family's adventures, with a lot of fresh and honest tricks along the way. For a daily dose of family fun, follow her on Instagram at @TheDailyJenny.
One of the toughest parts about being a mom is making decisions like what products to use on your baby. When I was pregnant, I went into immediate nesting mode pretty early on and wanted to make sure everything was ready for Charlie! He is 14 months now and I still read all the ingredients of anything I put in him or on him. I did so much research on what laundry detergent to use. There are so many different resources but mostly all of the products use harsh chemicals to get rid of stains and clean clothes. I know babies get really messy especially if you practice self-feeding like we do. However, I don't want chemicals that can harm my baby long term. I'm so excited that we discovered the amazing Biokleen products and have switched our detergents over fully whether we're cleaning our own clothes with Free & Clear Laundry Liquid or Charlie's with the Baby Laundry Liquid.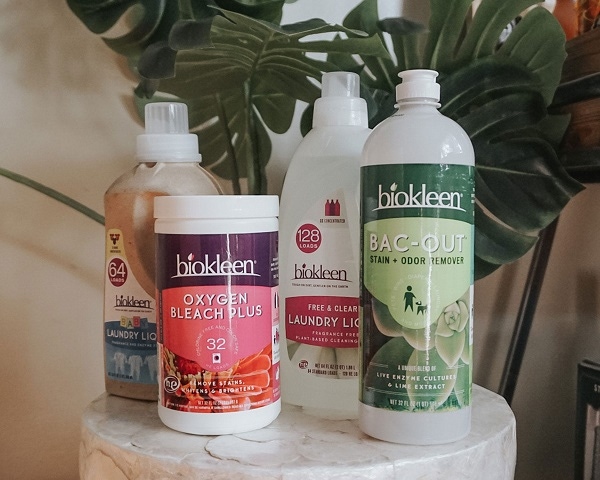 A few incredible things to note about Biokleen products: all Biokleen products are free of phosphates, chlorine, ammonia, alcohol, butyl, glycol ether, brighteners, artificial colors, artificial fragrance. This is especially important to both Charlie and our fur babies, Snow and Sparta. They get into everything in our home and we need to make sure that all products are safe for them too. Also, Biokleen is committed to homes and families and never tests on animals. Like I mentioned earlier, Charlie gets really really messy when he eats. We do like to keep him clothed so food doesn't get all over him. That means we get to deal with really tough stains ranging from bright berries to purple beets. For mild stains, we like to just use our Biokleen Baby Laundry Liquid. We find that this gets most regular stains out.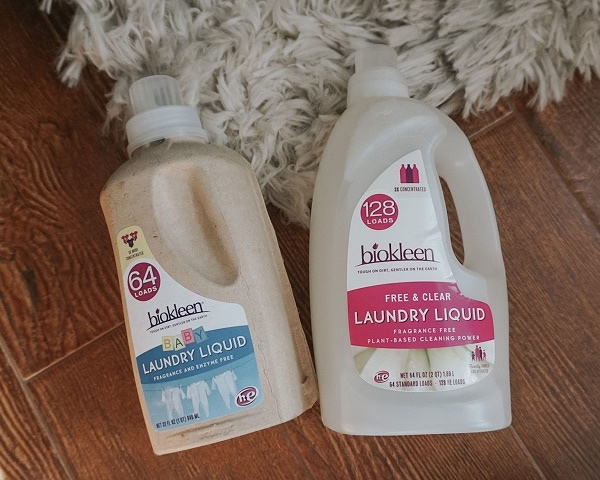 When we are fighting more intense staining, we like to pretreat our clothes with the Biokleen Laundry Powder Oxygen Bleach Plus. There are two ways that you can use this product. You can add directly to your laundry, but I personally prefer the second method of pretreating my stains. I find that because we wash most of our laundry on cold or warm water, the food sometimes just gets more crusted in. By pretreating it, we can still wash our clothes in cold or warm water to avoid any shrinking or weird color transferring while knowing that the stains have been pretreated and will be even cleaner coming out of the wash.
Steps to pretreat:
Mix 2 tbs of Laundry Powder Oxygen Bleach Plus with 16 oz of water.
Use a towel/rag to apply the mixture to any stains.
Allow mixture to sit for 5 minutes.
Blot spots with a towel and rinse.
Wash with laundry per your normal routine.
I am also a huge fan of the Biokleen Bac-Out Stain + Odor Remover. This product is effective and can be used in a variety of ways, but my preferred method is to treat stains and odors on my carpet. The other day, Charlie spilled his snacks on our carpet. We cleaned it up with a paper towel before soaking the spots with Biokleen Bac-Out Stain + Odor Remover. The lime extract made the odor dissipate entirely and left behind a beautiful citrus grove scent instead. It is now my go-to for accidents like these. The best part is I know it's safe for both Charlie and my pups so I don't have to worry about them licking the carpet and getting sick.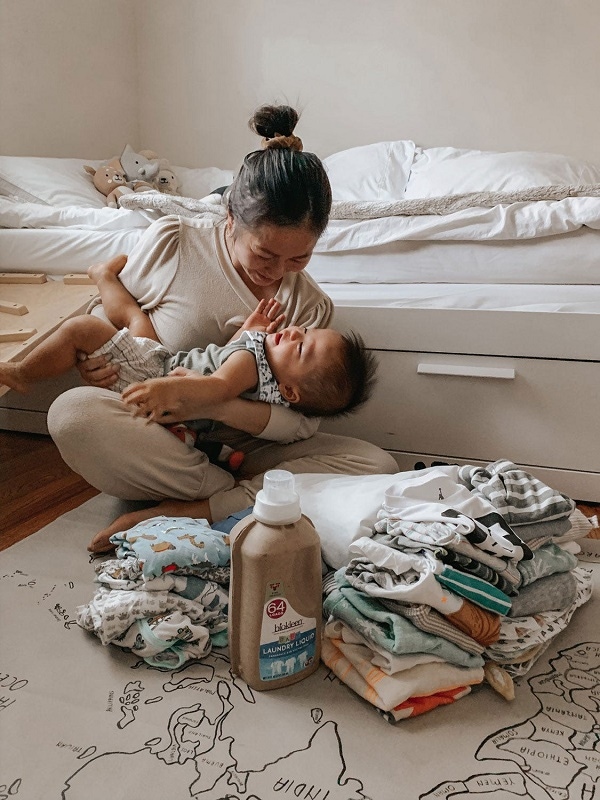 The only thing I need now is a product that helps me fold all this laundry. Hope you enjoyed my tips to make laundry days just a bit easier.
xo Jenny