The recipes for the roasted squash quiche and pumpkin pudding were originally published on bojongourmet.com.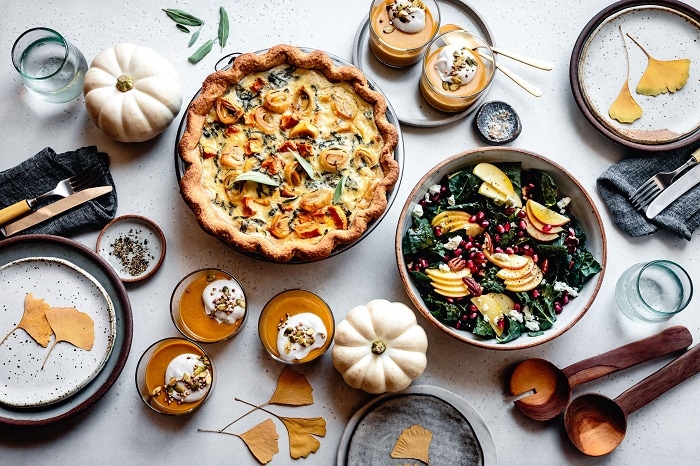 Pre-2020, Thanksgivings have been held at my brother and sister-in-law's home in Berkeley for as long as I can remember. We string multiple dining tables together in their cozy living room to accommodate everyone. While kids and cats run around, we indulge in a potluck-style assortment of classic dishes with plenty of leftovers to bring home afterward.
This year, the holidays look a little different. We're keeping it small and safe for Thanksgiving with just me, my husband, and our two cats in our San Francisco apartment. We're making a few of our favorite fall dishes that just happen to be vegetarian and gluten-free.
My husband and I share cooking and cleaning duties, and we choose Biokleen products because they're plant and mineral-based and they smell great. They keep our kitchen sparklingly clean, naturally, and they're safe for our fur babies too. We love that they're packaged in numbers 1 and 2 plastics that are the most commonly accepted by recycling centers and have a low risk of product leaching. And we can get them at our natural foods co-op, which is a major plus!
Apple & Kale Salad
We're starting things off with a kicky kale and apple salad. Deep green leaves mingle with sliced sweet-tart apples, bursts of juicy pomegranate arils, and crunchy pecans, all tossed with a maple cumin vinaigrette. A crumble of goat cheese is optional but highly recommended. Unlike your typical green salad, you can make this ahead of time thanks to the sturdy kale leaves, which benefit from marinating in the dressing ahead of time.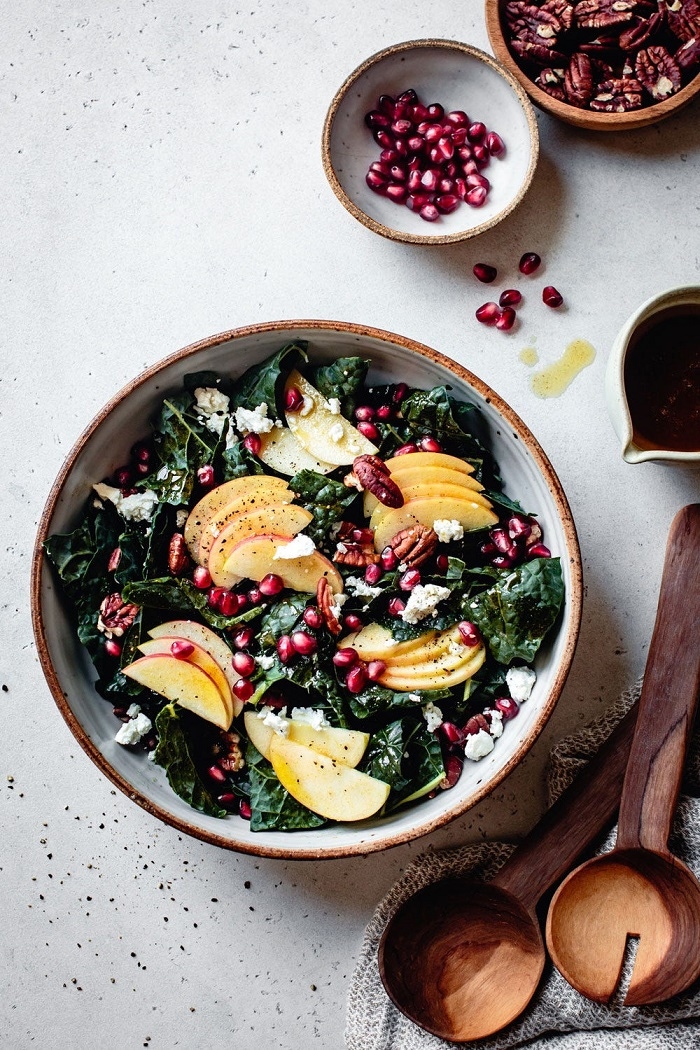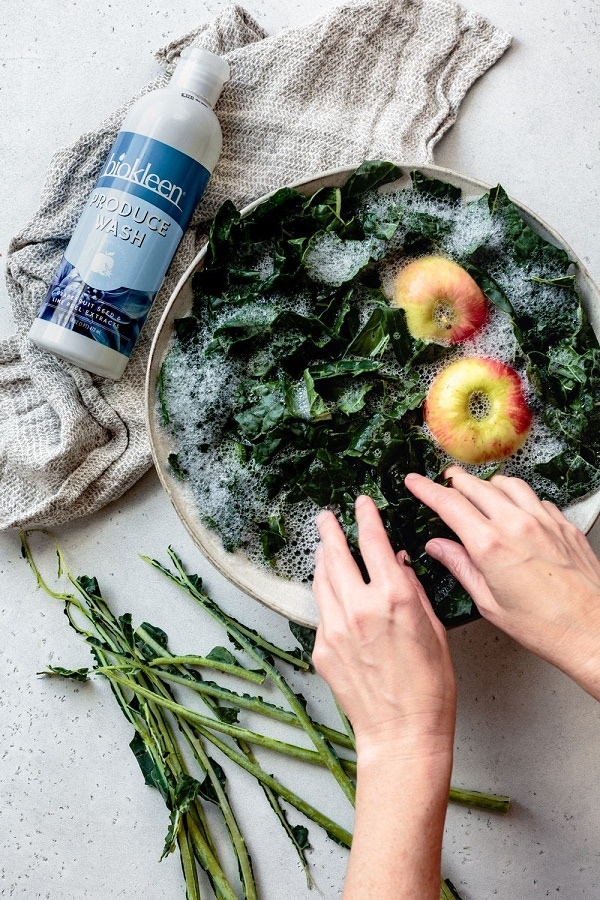 Biokleen Produce Wash turns even the dirtiest produce squeaky clean before it makes it onto your plate. A mix of enzymes breaks down and rinses away residues, wax, and soil. And it helps fruits and veggies stay fresh longer too.
Roasted Squash Quiche with Leeks & Sage
For our main dish, we're feasting on this special occasion quiche. Butternut squash and roasted leeks combine with a silky, savory custard and flaky pie crust for a vegetarian main dish fit for a celebration.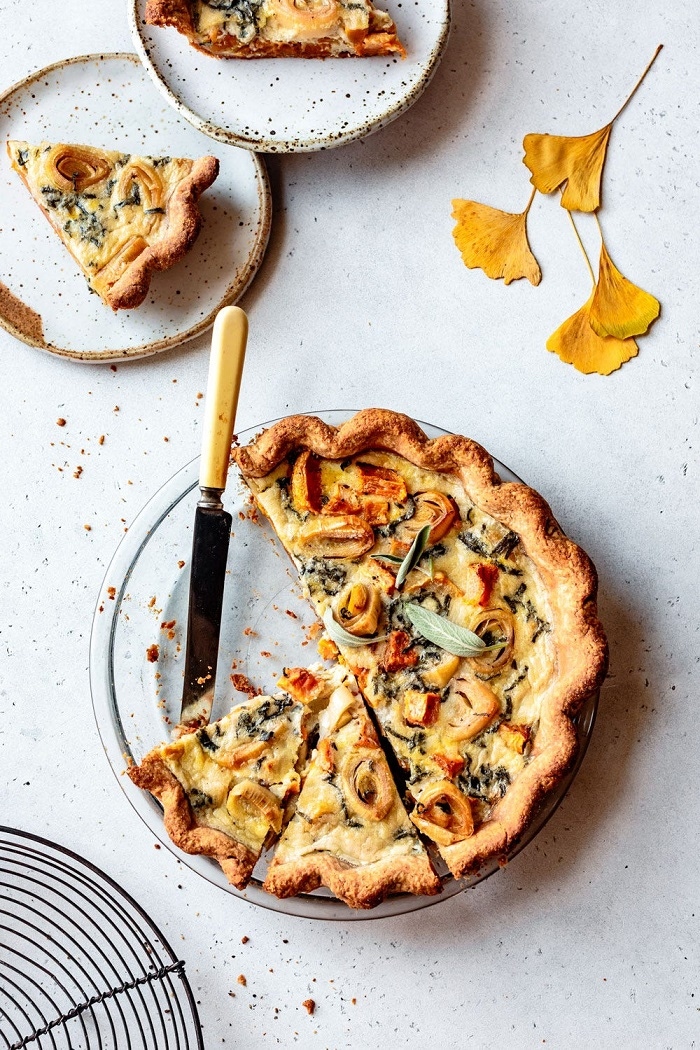 The recipe requires a few steps, but many can be done ahead of time. First, make and parbake your pie crust. Use this ultra-flaky wheat pie crust or try my gluten-free or grain-free pie crust recipe. Next, cut the squash into cubes and leeks into rounds. Toss both with olive oil, salt, and pepper, and roast on baking sheets until tender. When the veggies are done, whisk together a quick custard with milk, cream, and eggs (or use coconut milk for dairy-free). Layer the cheese (if using), roasted veggies, slivered sage, and custard in the crust and bake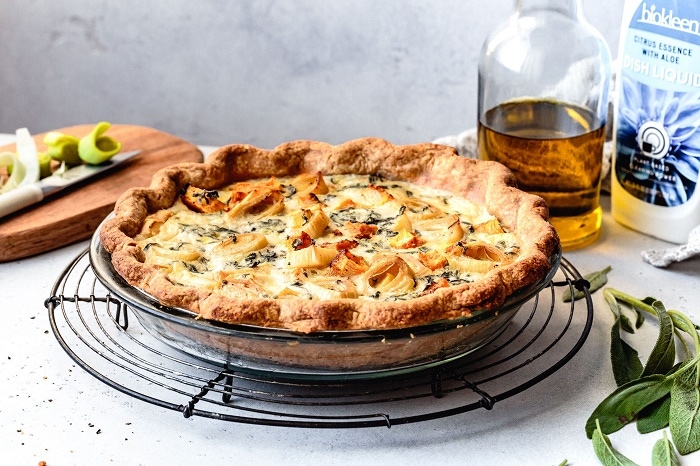 When you serve up this vegetarian quiche, your guests will be thrilled to devour buttery crust, rich custard, and chunky roasted fall vegetables all kissed with sage. And you will hardly mind doing the washing up with Biokleen Citrus Essence with Aloe Dish Liquid. Extracts of citrus and grapefruit seed cut through baked-on oils and the gentle ingredients such as aloe and vitamin E are easy on your hands.
Easy Stovetop Pumpkin Pudding
Skip the complicated baked desserts and save oven space with this silky pumpkin pudding for dessert. It has all the lovely spicy flavors of pumpkin pie but in a lighter package thanks to a kiss of fresh ginger, homemade squash puree, and freshly grated nutmeg. You can make these little pumpkin puddings dairy-free if you like, and they keep beautifully for up to 2 days before serving. Top with dollops of whipped cream or coconut cream, a sprinkle of toasted buckwheat, and some toasted pumpkin seeds for a modern Thanksgiving dessert.
When we've finished our feast, it's time to launder linens with Biokleen Citrus Essence Laundry Liquid. The concentrated formula washes away tough stains and odors and the gentle citrus aroma makes it ideal for cleaning kitchen linens. Wishing everyone good clean fun this Thanksgiving. Bojon Appétit!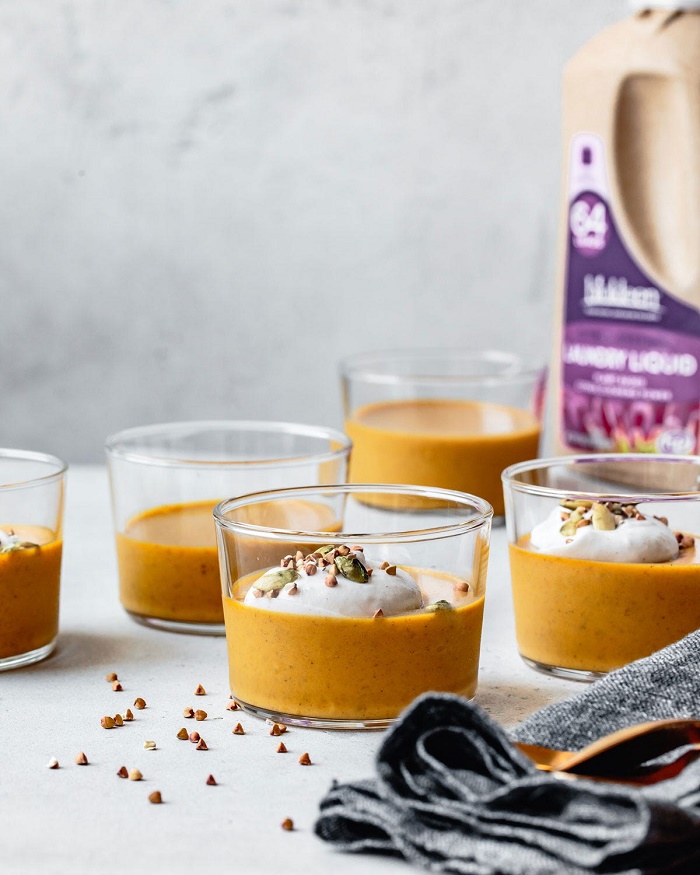 RECIPES:
Kale Apple Salad Dressing:
3 tablespoons good olive oil
2 tablespoons lemon juice
1 tablespoon maple syrup
1 teaspoon ground cumin seed
¼ teaspoon fine sea salt
Salad:
1 bunch dino kale, stems removed, leaves chopped into 2" pieces (6 cups loosely packed)
2 large apples, cut off the core and thinly sliced
1 cup toasted pecans
¾ cup pomegranate arils
optional: crumbled goat cheese

To make the dressing, combine all ingredients in a small jar. Put the lid on and shake well combine just before dressing the salad.
To make the salad, first wash your kale leaves and whole apples with Biokleen Produce Wash as per the instructions on the bottle.
In a large bowl, combine the prepared kale, sliced apples, pecans, and pomegranate with the dressing. Toss with your hands to combine. Top with crumbled goat cheese if using. Can be made up to 1 hour ahead.
Roasted Squash Quiche with Leeks & Sage
Originally published on The Bojon Gourmet
9-inch pie or quiche crust, parbaked (wheat, gluten-free or grain-free)
Veggies:
6 cups cubed peeled butternut squash
2 tablespoons olive oil
¼ teaspoon salt and pepper
1 large or two small leeks, sliced ¼ inch thick and cleaned – toss with 1 T EVOO, big pinch s & p
Filling:
3 large eggs
¾ cup whole milk (or full-fat coconut milk for dairy-free)
½ cup heavy cream (or full-fat coconut milk for dairy-free)
½ teaspoon salt
2 ounces gruyere cheese, grated (optional)
2 ounces fresh goat cheese (optional)
2 tablespoons slivered fresh sage leaves

Prepare and parbake the pie crust as directed. Lower the oven to 350ºF.
Toss the squash cubes with 2 tablespoons of olive oil and ¼ teaspoon each salt and pepper. Toss the leeks with 1 tablespoon olive oil and 1/8 teaspoon each salt and pepper.
Spread on separate baking sheets and bake until tender and golden, 30-45 minutes, flipping the vegetables halfway through. Remove and let cool.
Meanwhile, whisk together the eggs, dairy, and salt until well-combined.
Layer the cheeses (if using) with the roasted squash and leeks and slivered sage in the parbaked pie crust. Pour the custard into the crust.
Bake until the filling is puffed and the tip of a knife tip inserted into the center shows that the filling isn't liquidy 40-50 minutes. Let cool to warm or room temperature, then slice and serve.
Easy Pumpkin Pudding
Originally published on The Bojon Gourmet
Make this pudding dairy-free by using 1 cup of each plant milk and full-fat coconut milk in place of the milk and cream and plant butter.
½ cup dark brown sugar
2 tablespoons plus 2 teaspoons cornstarch
½ teaspoon ground cinnamon
¼ teaspoon ground nutmeg
¼ teaspoon turmeric (optional, mostly for color)
1/8 teaspoon allspice
½ teaspoon fine sea salt
1 ½ cups whole milk
½ cup heavy cream
½ cup unsweetened pumpkin puree
½ vanilla bean split lengthwise and scraped
1 teaspoon packed finely grated fresh ginger
2 tablespoons unsalted butter
whipped cream, toasted buckwheat, and/or pumpkin seeds for topping

In a large saucepan, whisk together the brown sugar, cornstarch, cinnamon, nutmeg, turmeric, allspice, and salt until combined.
Whisk in the milk, cream, pumpkin puree, vanilla bean and scrapings, and ginger.
Place the pot over medium heat and gradually bring to a boil, whisking constantly and making sure to scrape the bottom and corners of the pans with the whisk. You'll have to stop whisking for a few seconds to verify that the pudding is boiling, which you'll know by the big bubbles that pop gloopily. Once the mixture comes to a boil, continue cooking and whisking for 2 minutes. Remove from the heat, and whisk in the butter. It should be the consistency of creamy yogurt.
Strain the hot pudding through a mesh strainer and into a large measuring pitcher, then divide the hot pudding among 4 - 6 (4-ounce) heatproof cups or jars. Cover the puddings and chill until set, at least 2 hours and up to 2 or 3 days.
Serve the puddings topped with a plume of whipped cream and a dusting of toasted buckwheat and/or pumpkin seeds.