ARTICLE POSTED BY ROBIN PLOTNIK OF @WHATROBINEATS
Robin Plotnik is the founder of What Robin Eats, as a certified nutritionist, and personal trainer she chronicles her passion for a healthy lifestyle. When she's not writing nutrition plans for her clients or creating recipes in the kitchen, she can be found spending time with her daughter and husband. For a daily dose of family fun, healthy recipes, and mommy tips, follow her on Instagram at @WhatRobinEats.

New year, who dis? Joel and I live for the post-holiday cleanup. Anyone else? We're making our home sparkling clean after the holidays using Biokleen products and we couldn't be happier!
Even though we enjoy cleaning up our home, it doesn't mean that it can't be a little stressful for us. Where does one even begin to clean between me cooking in the kitchen, family coming over, my toddler dragging her toys everywhere, a newborn spitting up, a husband doing whatever he's doing, and a hairless cat eating something he's not supposed to? Starting the process can be the most difficult part if you don't have a plan. I've collaborated with Biokleen to help you make cleaning up your holiday festivities less stressful and hopefully, a little fun.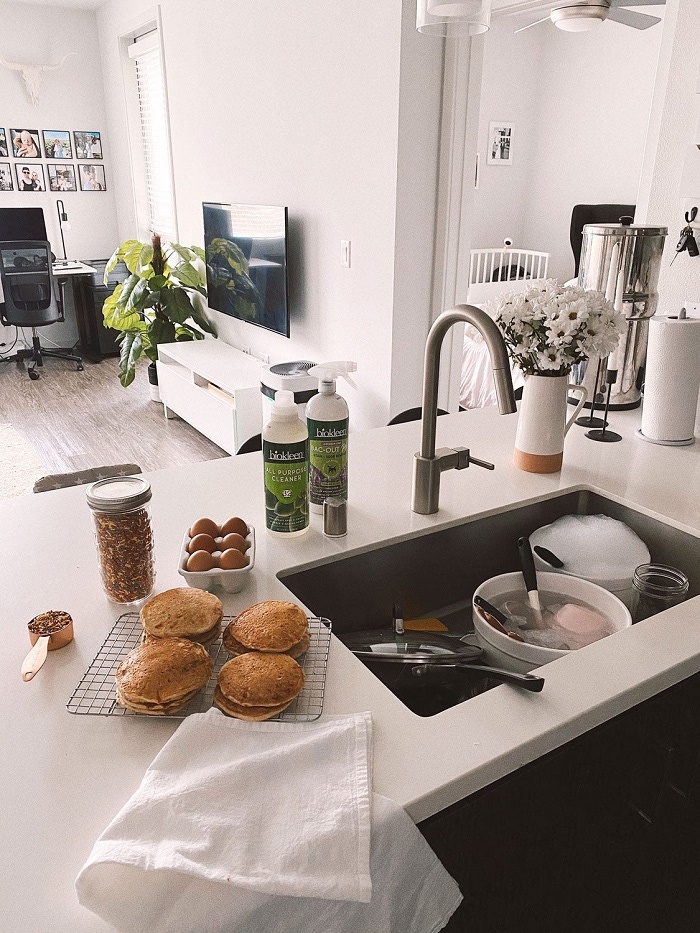 We love using Biokleen products in our home because they are plant and mineral-based cleaners that are free of phosphates, chlorine, ammonia, alcohol, butyl, glycol ether, brighteners, artificial colors, & artificial fragrance. This is super important to us because we never know what our babies are going to stick in their mouth or lick. Plus our cat is hairless so his skin is extra sensitive to any cleaning products he may lay on. Biokleen believes that a house free of toxins is a home full of love. How could you not love a company whose products stand by that statement?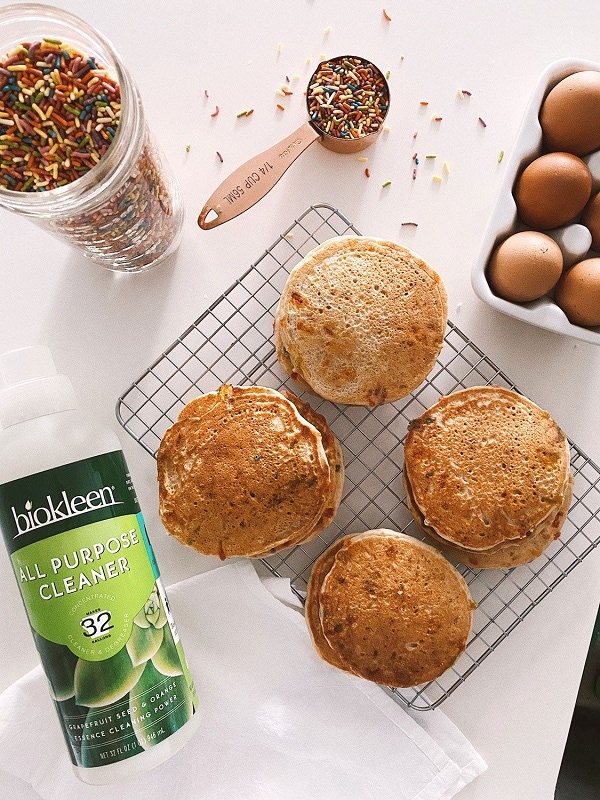 Now let's start cleaning!I like to start the cleaning process in my favorite room of the house, the kitchen. The kitchen is my safe place and the room I spend most of my time daily. When my kitchen is clean, my heart is happy. First, I purge the pantry and fridge, composting, and recycling products I no longer need now that the holidays are over. I wash all my containers that are storing leftovers with Biokleen Lemon Thyme Dish Liquid. Make sure to use this water-wise tip: use a small bowl or pan to wash dishes instead of running the water in the sink. You'd be shocked to know how many gallons of water is wasted with the kitchen sink is running the entire time -roughly 20 gallons per load of dishes washed by hand!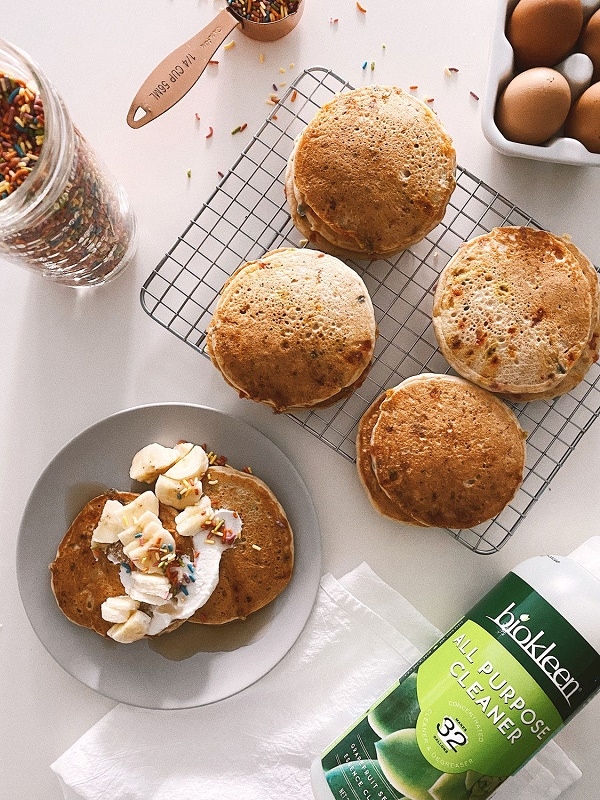 Next, I move on to deep cleaning the surfaces of my home using Biokleen Bac-Out All-Purpose Cleaner Concentrate. A little of this cleaner goes a long way and it also cuts through grease and grime. It's perfect for light-moderate cleaning like wiping down the fridge, countertops, stove, and dishwasher, as well as heavy-duty cleaning to clean the floor and grease off kitchen surfaces. I've yet to meet a surface mess in my home that Biokleen's Bac-Out All-Purpose Cleaner Concentrate couldn't handle.After cleaning all the surfaces and floors, I tackle any stains that may have happened over the last few months. Like Poppy running around the house with a holiday treat and getting chocolate all over the couch. Or Aero eating all the food dropped onto the floor and deciding to vomit in the middle of the carpet, fun stuff I tell ya! Thankfully, Biokleen's Bac-Out Stain + Odor Remover Foaming Spray is easy to use and fast-acting. This full-strength formula is ready to use and there's no diluting required. I actually have Biokleen's Bac-Out Stain + Odor Remover Foaming Spray on hand year-round because stains are bound to happen!
Lastly, I spray all the upholstery and furniture in our home with Biokleen's Bac-Out Fabric Refresher-Lemon Thyme Spray to eliminate trapped odors. These odors can be from just about anything holiday-related. There's nothing like smelling Christmas dinner on the sofa well into the new year. Biokleen's Bac-Out Fabric Refresher-Lemon Thyme Spray contains enzymes and essential oils of lemon and thyme to naturally eliminate odors. It's so calming to spray Biokleen's Bac-Out Fabric Refresher-Lemon Thyme Spray all over the sofa knowing that there's no harsh fumes, residue, artificial fragrances, or colors going all into the air. Biokleen products truly make cleaning up after the holidays, and any time of the year, such a treat. There's no turning back once you start using Biokleen in your home!In honor of the new year, a clean home, and my 30th birthday in a few weeks, I've created the most perfect Gluten Free Birthday Cake pancakes to help you celebrate. Follow the details below and enjoy this breakfast that tastes like cake. You deserve it after all the cleaning you just tackled. Happy cleaning!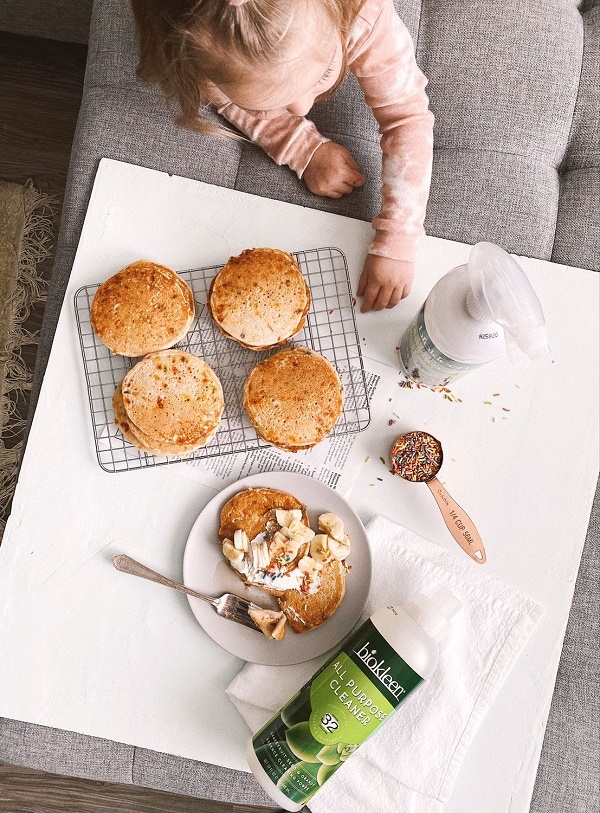 Birthday Cake Gluten Free Pancakes:
1 + 1/3 cups gluten-free 1-to-1 flour
2 teaspoon baking powder
1 cup milk of choice
1/2 tbsp vanilla extract
1 tablespoon of melted coconut oil (slightly cooled)
2 large eggs (2 flax eggs for vegan option)
1/4 teaspoon flaky sea salt
1/4 cup sugar of choice (I used monk fruit sweetener)
2-3 tablespoon natural sprinkles
Cream Cheese Frosting:
1/4 cup soft cream cheese of choice
1 tablespoon powdered sugar
1 tablespoon vegan vanilla protein powder (not whey protein! Doesn't work well in this.)
1-2 tablespoon milk of choice (may need more or less. This is to make the "frosting" spreadable over the top of the pancakes)
Optional Toppings:
Extra natural sprinkles
Banana slices
Maple syrup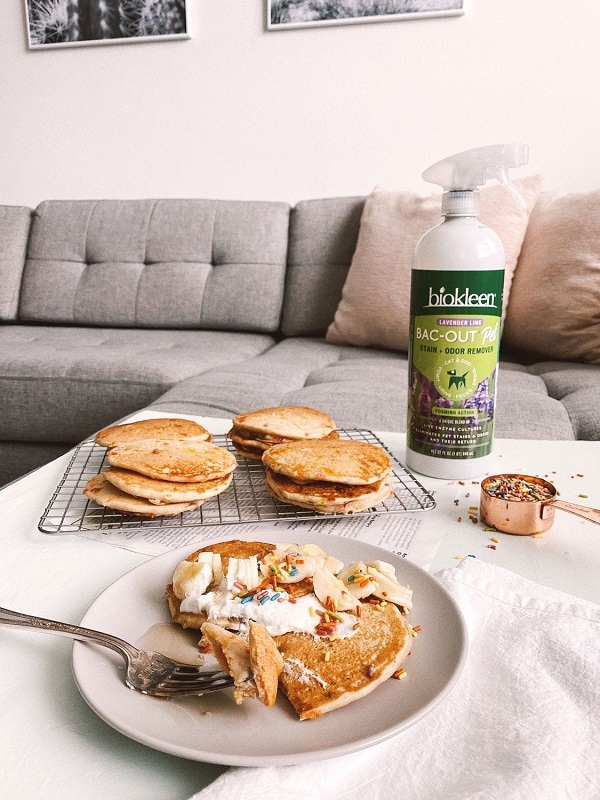 Directions:
Blend wet (including the sugar) ingredients together then hand mix in dry until just combined. Let the batter sit for 10 minutes (this is key to making the pancakes super fluffy) before gently stirring in the sprinkles.
Use a 1/4 cup measuring spoon to ladle the batter onto a hot flat skillet sprayed with nonstick cooking spray. Let the pancakes cook 3-5 minutes on one side (or until the top starts to bubble) then flip to cook another 1-2 minutes. Repeat until the batter is gone.
Stir the cream cheese frosting together. Stack, top with frosting, banana slices, extra sprinkles, a little maple syrup, and party because your home is sparkly clean now!