ARTICLE POSTED BY MONICA STEVENS LE OF @THEMOVEMENTMENU
Monica Stevens Le is the founder of TheMovementMenu.com, where she chronicles her passion as a recipe developer, matcha addict, and lover of all things deliciously, green. As a blogger and real-food cook, she has created a happy space full of healthy and mindful eats. When she's not spending time in the kitchen, she is spending time with her husband Tim, and daughter Sophie. For a daily dose of family fun, healthy recipes, day-to-day quality of life tips, follow her on Instagram at @TheMovementMenu.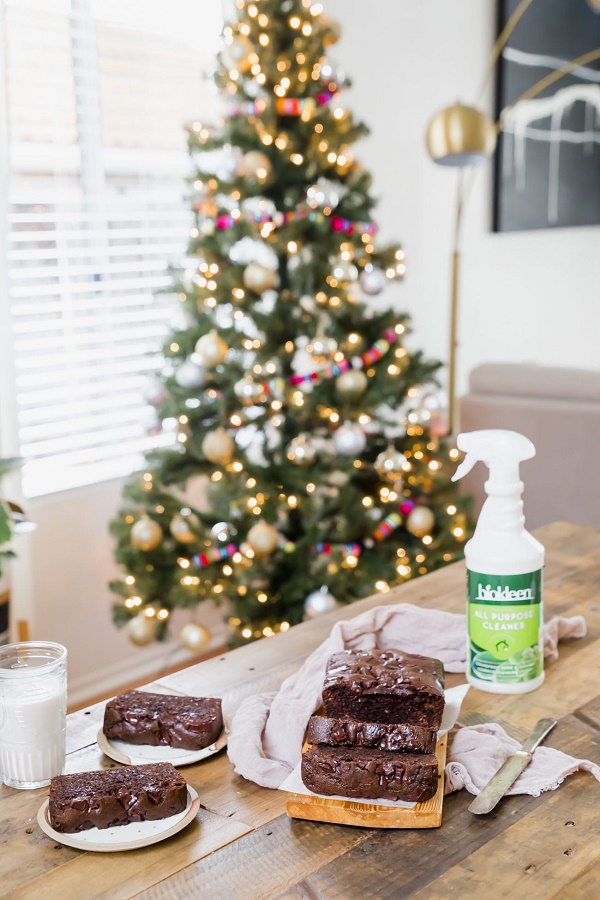 It can be easy to get carried away during the holidays and swept away in a lot of the [materialistic] magic that everyone around us seems to be creating. I try to remind our close friends and family members that for us, the holidays are really about just spending as much time together as possible and less about gifting and receiving gifts. This can become a tough balancing act to strike as many of our loved ones' love languages are "gift-giving" but we do our best to get the message across. In addition to eating plant-based as often as possible, we have been doing what we can in and around our home during the holidays to reduce waste. Sophie and I have spent a lot of time together this holiday season, and we are about to spend even more time together as her daycare is closing for two weeks. Here are a few of the things we are doing this holiday season to reduce waste, while simultaneously decorating our home and making things feel more festive.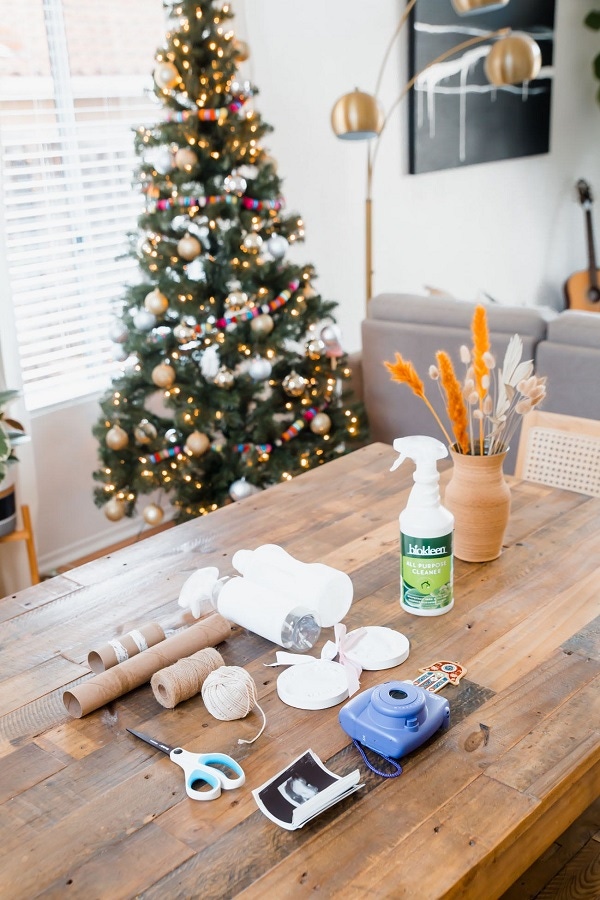 We have tried our hand at making tree decorations and ornaments from things like:
Paper towel rolls
Toilet paper rolls
Clothespins
Pine cones from outside
Polaroid photos we have taken
… and more!
It is our first year getting a tree for our home, so we are decorating it very slowly. We decided to grab one package of plastic ornaments from the store (in fear of Sophie breaking other ones) and the rest of the decor, we are building slowly but surely year after year. Check out some of the other ways you can reduce waste in your home this holiday season (and the rest of the year, too!)
Recycling, always.
Repurposing gift bags, bows & other wrapping things
Purchasing used books, clothing & toys for our daughter
Composting food waste
3-5 minute showers
Shopping at local farmers markets for your holiday meal(s) and buying in bulk when possible in order to reduce packaging
Avoiding single-use food and drink containers
Reusable grocery bags, reusable water bottles/cups/mugs, etc.
Donating used goods so other families can purchase second-hand items for gift-giving
Saying "no" to plastic straws in all those yummy, coffee shop holiday beverages
Meal planning and reducing food waste
Reusing food jars for storage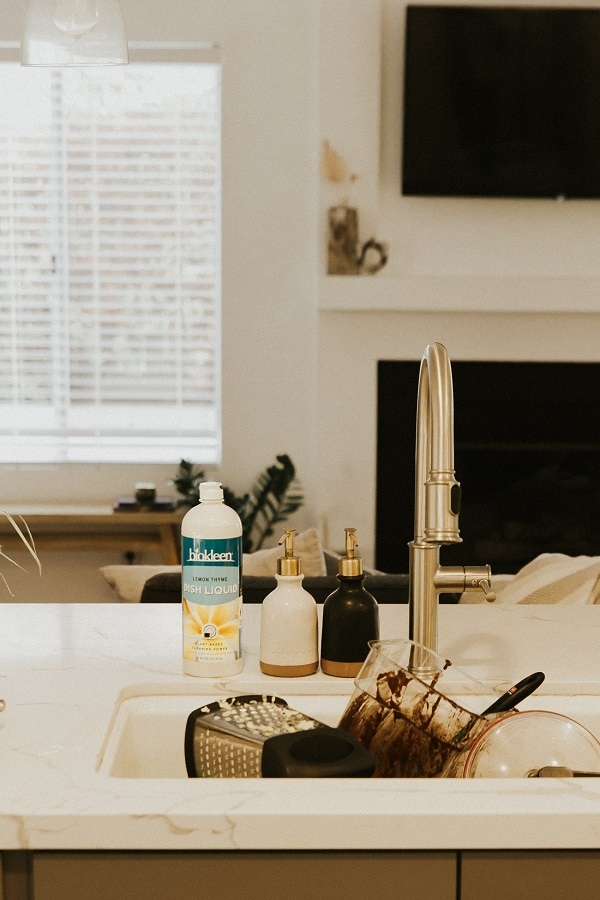 With all of the ornament & decoration creating we've been doing, we've also been really enjoying using the entire Biokleen line of products for our clean-up, especially during my pregnancy. It's such a fragile time, and I love that I can instill my trust in a brand that delivers high-quality cleaning products that are both safe and effective. The amount of dried up chocolate that was left all over the bakeware after making this zucchini bread is laughable. I simply squirted a bit of the Biokleen Dish Soap into the baking vessel and let it soak in hot water for a few minutes before lightly scrubbing all of the grime away. The Biokleen Free & Clear Laundry Liquid works absolute wonders on Sophie's clothes after she devoured a slice or two of the bread, and the Biokleen All-Purpose Cleaner was perfect for cleaning up our ornament decorating session.
Without too much further ado, let's get into this fabulous plant-based double chocolate zucchini bread recipe. It's made with raw cashews, almond flour, and naturally sweetened with maple syrup. It's incredibly decadent, and I love having it with the family as a snack, part of breakfast, or dessert. Enjoy!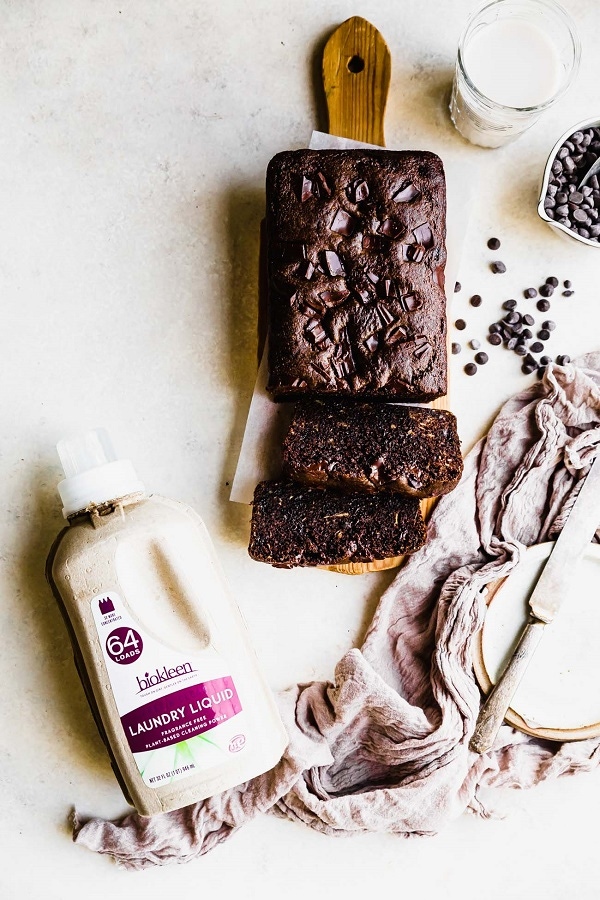 Double Chocolate Zucchini Bread
Prep time: 10 minutes
Cook time: 45 minutes
Serves: 10
Ingredients:
1 cup raw cashews
1 1/2 cups almond flour
1/2 cup cacao powder or unsweetened cocoa powder
1/2 teaspoon kosher salt
1 teaspoon baking soda
1/2 cup pure maple syrup
1/4 cup coconut oil
1 teaspoon pure vanilla extract
4 large eggs
1 1/2 cups zucchini peeled and grated
1/2 cup dark chocolate chips split in two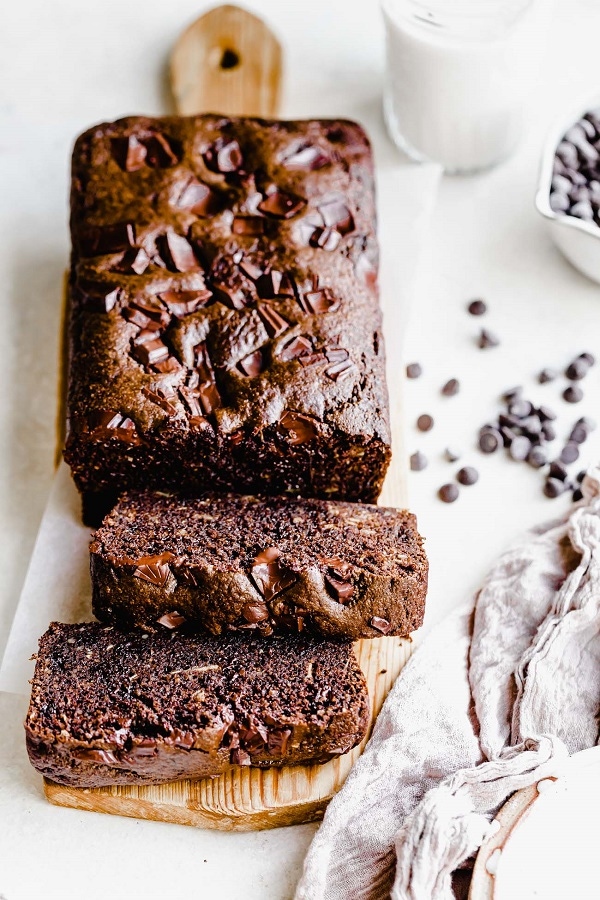 Instructions:
Preheat the oven to 350 degrees Fahrenheit, and adjust the oven rack to the middle position. Line a 9x5" or 8x4" loaf pan with parchment paper and set aside.
In a food processor, pulse raw cashews, almond flour, and cacao powder until well combined. Add sea salt and baking soda. Pulse a few times.
Pulse in maple syrup, coconut oil, vanilla extract, and eggs. Combine until smooth throughout. Add the zucchini and pulse just a few times. Stir in half of the dark chocolate chips.
Transfer batter to the parchment-lined loaf pan. Tap hard on the counter a few times to release all of the air bubbles. Top off with the rest of the chocolate chips. Bake for 40-45 minutes or until a toothpick inserted into the center comes out clean.
Let sit and cool off for about 30 minutes before transferring to a wire rack to cool completely. Serve right away!
Notes
You could omit the chocolate chips entirely. The bread is chocolatey enough on its own with the cacao powder. The chocolate chips just add an additional "wow" factor, I'd say.