Death. Taxes. Spills on carpet. All three are impossible to avoid.
But that doesn't mean you have to accept a blemish or discolored mark on your carpet. At biokleen, we know all about stains and odors on fabrics — and how to remove them. That's why we wanted to cover three of the most common carpet stains and how you can get rid of them.
1. Wine Stains
Ah, wine. The sweet nectar of the gods. When a wine spill happens — whether it's on a tablecloth or your carpet — it's best to blot it with a dry cloth or paper towel. This will help remove as much excess wine as possible. Once that's done, we highly recommend saturating the stain with Bac-Out Stain + Odor Remover. Bac-Out uses bio-enzymatic cleaning power to fight stains safely and naturally. Live enzyme cultures continuously break down stains and odors into tiny particles until they are gone and you're ready to host another wine party. That means you can bust out the reds when your clumsy relatives come over without having to worry about potential stains.

2. Coffee Stains
Whether it's a piping hot mug of pour-over or a cold, refreshing cup of a cold brew, coffee stains are an easy way to make light-toned carpets look shoddy. Similar to wine, when a coffee stain happens, you'll want to blot the area with a dry cloth or paper towel. But blot! Do not rub. Rubbing a coffee stain instead of blotting can spread the stain around rather than absorb the excess java. Once you've sufficiently blotted, head back to that amazing bottle of Bac-Out Stain + Odor Remover. It also works wonders on fabrics, furniture and more. The formula is biodegradable and manufactured in the U.S. You also never have to worry about phosphates, chlorine, ammonia and artificial fragrances or dyes. It's free from all that, just like you'll be free of coffee stains.
3. Pet Stains
At biokleen, we love our furry friends. But even the best pets make mistakes. There will be days when you can't make it home in time to let your good boy or girl out, or if you have an older pet, you might start noticing frequent stains in certain areas. Older pets become much more prone to accidents for a variety of reasons, including forgetfulness and health issues. When pet stains happen, don't fret. We've made a specific formula that's safe to use around all animals: Bac-Out Pet Stain + Odor Remover. This product is the 2022 Eco Excellence Winner for Best Pet Cleaner product, a winner in consecutive years. It uses bio-enzymatic cleaning power to safely eliminate pet stains and odors that stem from drool, vomit, blood, poop and urine. Along with carpets, it works great on couches, collars, kennels, pillows and even your mattress.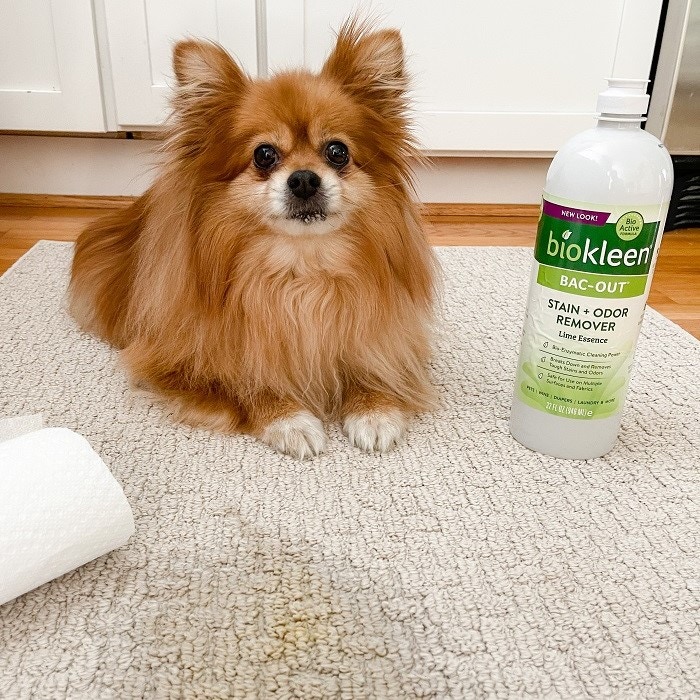 Don't Let Stains Ruin Your Day
When a stain happens, don't be too hard on yourself. It might feel like the end of the world that you spilled wine or coffee on your new rug or carpet, but with a little help from biokleen, you'll get it looking new again. If you have any questions about lifting stains, please don't hesitate to contact us.