ARTICLE POSTED BY JEN MCLELLAN OF @PLUSMOMMY
Jen McLellan is a published author and founder of Plus Size Birth and the Plus Mommy blog. She helps people navigate the world of plus size pregnancy, shares tips for embracing your body and laughs her way through the adventures of parenthood. Jen is also a childbirth educator, skilled patient advocate, professional speaker, wife, and mother to a charismatic 7-year-old. For a daily dose of family fun, plus size pregnancy, parenting tips, and much more, follow her on Instagram at @PlusMommy.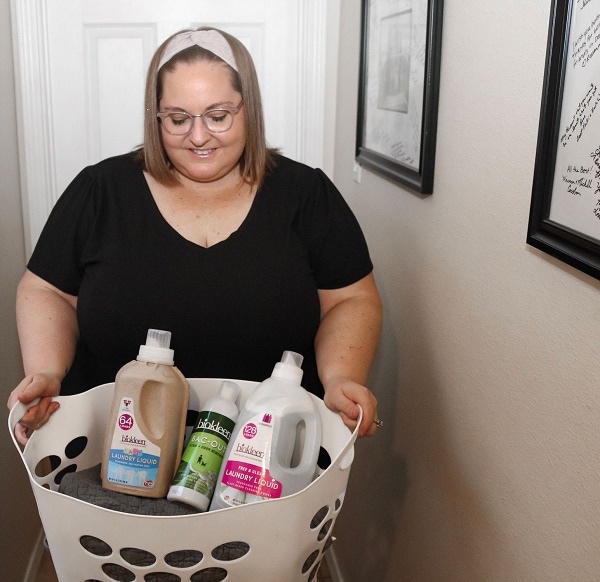 As a busy mom on a tight budget, I was on a mission to swap out the standard stinky cleaning products I've always used with eco-friendly and non-toxic options.
I started by reading the cleaning product ingredients at my grocery store, but it was hard to look past the price difference. Like most budget-minded moms, I went on to explore my favorite place at the grocery store - the clearance shelves!
All the random eco-friendly brands I tried on clearance left me feeling disappointed. They never seemed to work as well as my tried and true chemical bombs. Yes, chemical bombs! Especially after cleaning our guest bathroom with no windows for ventilation, I'd always need to tell my son to stay away until the fumes dissipated.
I kept asking myself, why am I using products that I don't even feel right about my son being around? There has to be a safe option that works well and is affordable. Then there was this one time when I read about using vinegar as a household cleaner and adding a few drops of essential oils. With some lavender oil on-hand, I mixed up a concoction that made my whole house smell like I was dying Easter eggs - only it was the middle of February. Sure, it was non-toxic, but the foul smell lingered for what felt like as long as it took for the Easter Bunny to arrive.
Finally, I learned about Biokleen, and my mission to find eco-friendly and affordable cleaning products was complete!
I'm excited to tell you about my favorite Biokleen products and why I'm so thankful my house will never experience another chemical bomb. First, I want to share a little about Biokleen and why I love their products and a brand that cares about the planet, its customers, and the whole family (including furry family members).
Biokleen believes that a house free of toxins is a home full of love. Their plant and mineral-based products are highly effective without the use of any toxic chemicals. I'll break that down by sharing that their products are free of phosphates, chlorine, ammonia, petroleum solvents, alcohol, butyl, glycol ether, brighteners, artificial colors, and artificial fragrance. I don't know about you, but that gives me all the warm fuzzies!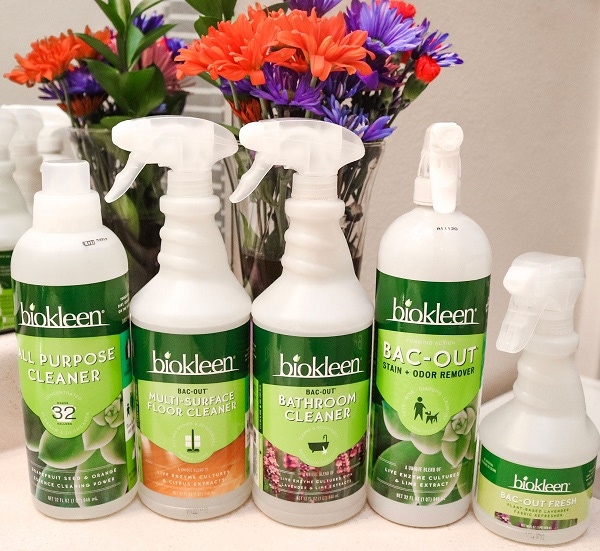 Speaking of warm fuzzies, their products are not only safe for our furry family members, but they don't test their products on animals.
The packaging Biokleen uses are made up of plastics most commonly accepted by curbside programs. So you don't have to worry about doing anything special to dispose of them. As busy moms, we sure don't have time to worry about such things! You also don't need to fret about product leaching.
For my fellow budget-conscious parents, the quality of these products means you don't have to soak your cleaning rag to see results. A little goes a very long way!
Now let me share my favorite Biokleen products with you that use a blend of live enzyme-producing cultures and extracts to cut through stains and naturally deodorize. Products this soccer mom is thankful to have in her home!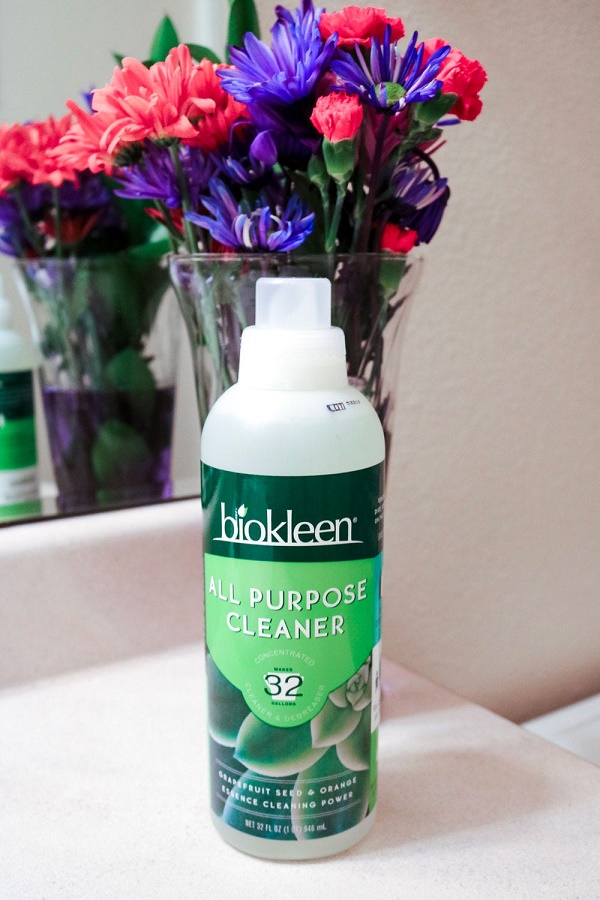 My go-to cleaning product is Biokleen's All-Purpose Cleaner Concentrate. When you smell the fresh citrus and grapefruit seed extract, you'll have a hard time going back to smelling harsh chemicals.
Like the average bottle of multi-surface cleaner, Biokleen's bottle is 32 oz. Yet, unlike your average cleaner, you mix one gallon of water with 2 - 3 caps full of Biokleen All-Purpose Cleaner Concentrate. One gallon is 128 oz, so I'm saving money each time I use this cleaning product that lasts for months on end!
As a parent, I love how I can wipe down any surface in my home and not worry about my son touching anything. This is especially true for the kitchen. My little one is learning to cook, so food goes all over the counters and directly into his mouth.
This product smells delightful, is safe in my home, and works incredibly well to clean up grime.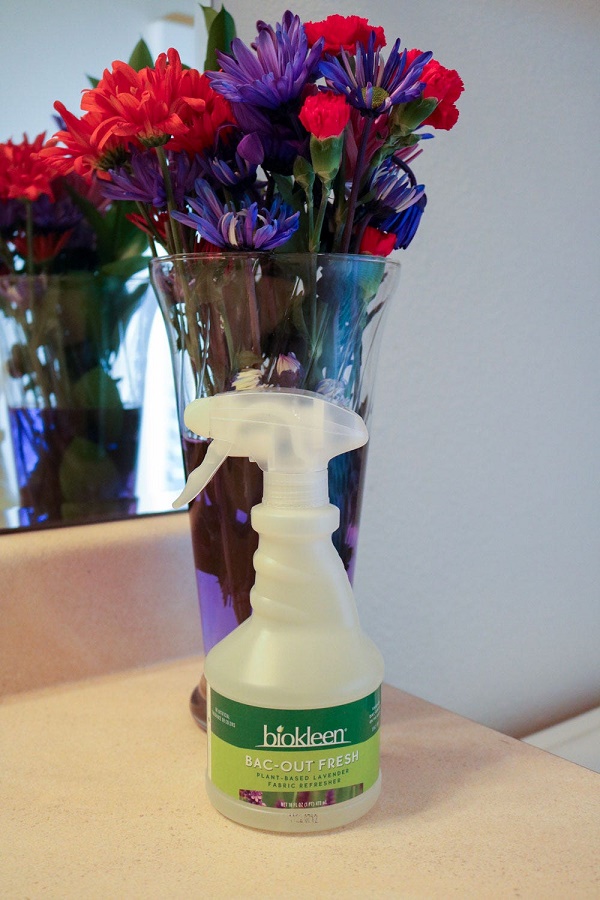 Lavender is one of my favorite scents, yes, even after the vinegar incident. I love how this spray freshens my home between cleanings; from my couch, bedding (yes, even my son's bed), to my husband's favorite chair.
Beyond my home, I like to use this spray in my car and especially on my son's booster seat. I wish I would've known about it when he was in a car seat - those seats can sure get stinky and taking them apart to clean is a headache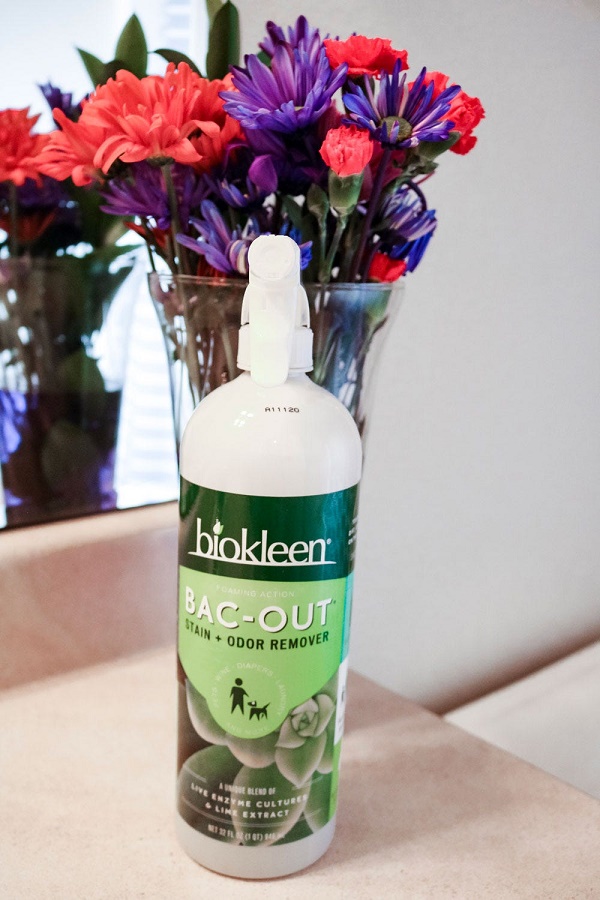 I like to say this bottle is full of magic, but it's actually Biokleen's unique and synergistic blend of live enzyme-producing cultures, citrus extracts, and plant-based surfactants.
While this stain and odor removing product works fantastic for the messes pets can make, in my home, it gets used often on the stains my 10-year-old son creates!
Last week I was able to remove a mysterious stain from his carpet. I honestly don't even want to know what it was - I'm just thankful it's gone.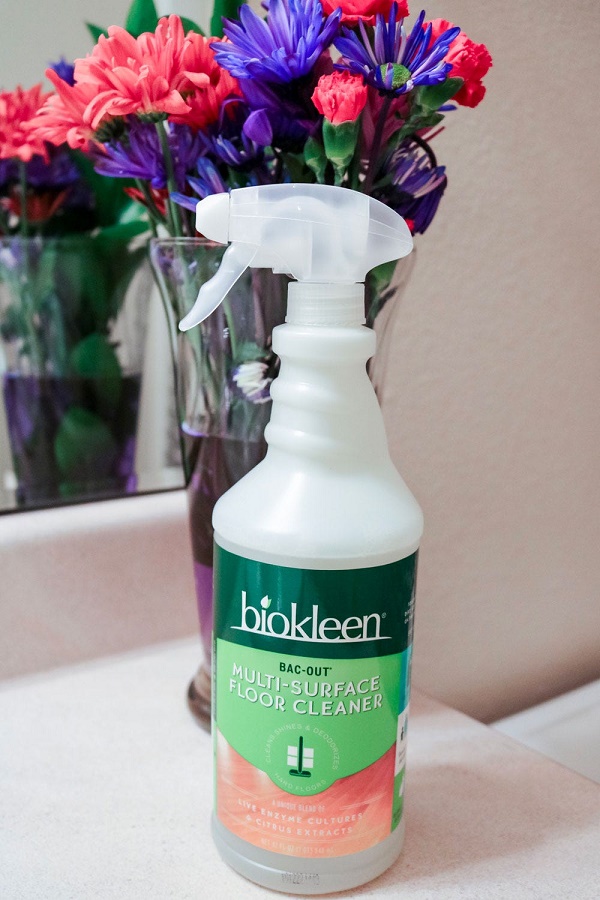 I don't know about you, but clean floors make me happy!
Most of my home has tile floors, and until finding this product, I wasn't too fond of the sticky residue other cleaners left behind. With Biokleen's Bac-Out floor cleaner, I get the shine I desire without undesirable fumes.
It comes in a spray bottle so you can spray while you mop! I like to start by spraying any noticeable spots first, so the product works its magic as I'm cleaning elsewhere. This trick makes mopping a lot easier with this great product.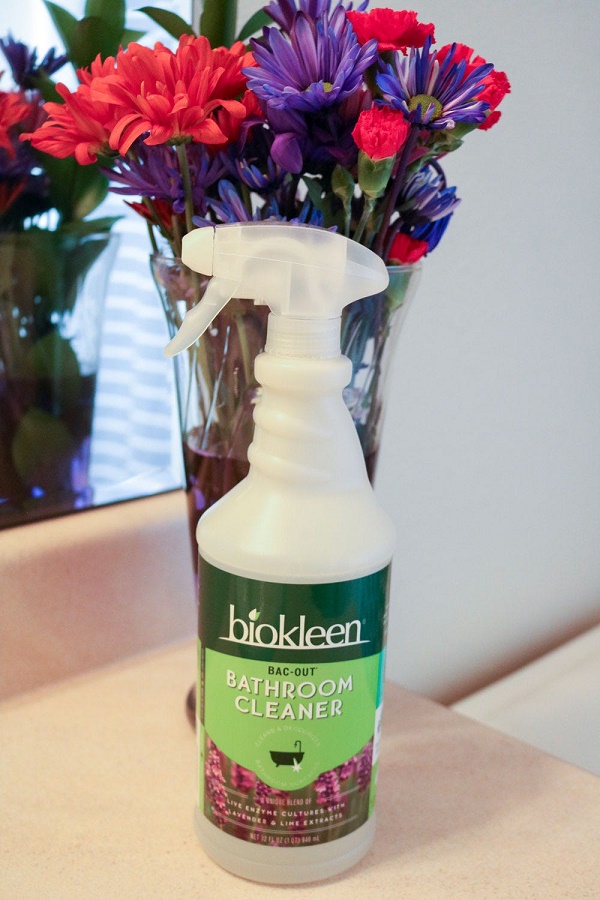 My son's bathroom is also the guest bathroom. So it goes without saying that keeping that bathroom clean and smelling fresh is a top-priority in my home. And like all of Biokleen's products, their bathroom cleaner works wonders.
I know what you're wondering, and yes, it gets the toilet seat nice and clean with one spray and wipe.
I can keep cleaning without needing to take breaks because I no longer have to scrub while inhaling harsh chemicals - that's priceless!
My home stays clean and fresh with eco-friendly (amazing scented) products that don't break my budget, so I'm one happy mama. I hope you'll join me in ending the use of chemical bombs and welcoming Biokleen into your home!